No matter what you celebrate, there's no denying that winter is in the air, and the holiday season is upon us. So, Merry Christmahanakwanzika to you, and Happy Festivus to everyone else. My family has always celebrated Christmas, so that's what I'm going to get into down below, but if you celebrate a different holiday, or none at all, you can still take some of these ideas and make them your own. I personally don't start up the Christmas stuff until December hits, though I know plenty of people who have been planning on decorating for the holidays since before Thanksgiving. Now that the turkeys have been carved (here in America, anyway), it's time to get to decorating and make it a Geeky Christmas.
Why Geeky Christmas?
I love to decorate for Christmas, because I really get to show off the interests of myself and my family. I've never really been one for "traditional" decorating, so I just have as much fun with it as I can. Although I could write a billion lists of what you could buy for all the different people in your lives, I'm instead going to show you what you could be buying for yourself. Selfish? Maybe a little. The way I look at it, though, the shopping rush of Black Friday and Cyber Monday are already over, so now you have time to figure out what you want to do in your home. If you're having a party, or just a few people over, these kinds of decorations could become some fun and festive ice breakers. At the very least, it'll help you get into the holiday spirit (which it seems the world needs a large helping of nowadays).
Trees
First off, it isn't Christmas without a Christmas tree. Historically, the tree isn't even part of Christmas, it's from old world pagan religions, but regardless it's part of tradition now. Whether you like to pick out a real tree and bring the beautiful scent of pine (and the endless dropping of needles) into your home, or you'd like to pass Mother Nature a save and get yourself a fake tree, there are MANY options out there. From 'Portal' trees:
To "Lego" trees:
And even 'Pac-man':
You can't go wrong when you have fun with it. After you pick out what kind of tree you want, and how big (or small) you'd like it to be. You NEED decorations (unless you go with aforementioned tiny tree).
Tree Decor
Whether you make them yourself:
Or buy them from a store:
Your Christmas ornaments are all about YOU. What inspires you? What pastimes do you like? What reminds you of friends, family, and good times? This is the perfect opportunity to dress up your tree in moments. There are a PLETHORA of ornament ideas out there. Do you like to watch 'Supernatural' with your SO? Hang up the Impala or an anti-possession emblem. Did you like playing games with your sibling back in the day? String some old school controllers in there. There's no limit to what you can do. Make your Christmas a Geeky Christmas by indulging in what you love and what makes you and your family happy.
Lights
I have to admit, I've never been good with putting up lights. I love the way they look, I just hate the possibility of falling off a ladder. Not to worry, there's a new product out there I'll be trying this year called 'Star Shower' that projects lights onto your house.
However, if you don't mind heights, maybe you could go with some of these looks:
Random Decor
That may be where you stop, or you just get started. Some people go all out with wreaths, garlands, wall decor, and more. I have a wreath from ThinkGeek that I put up every year. Here's some really cool concepts that I found.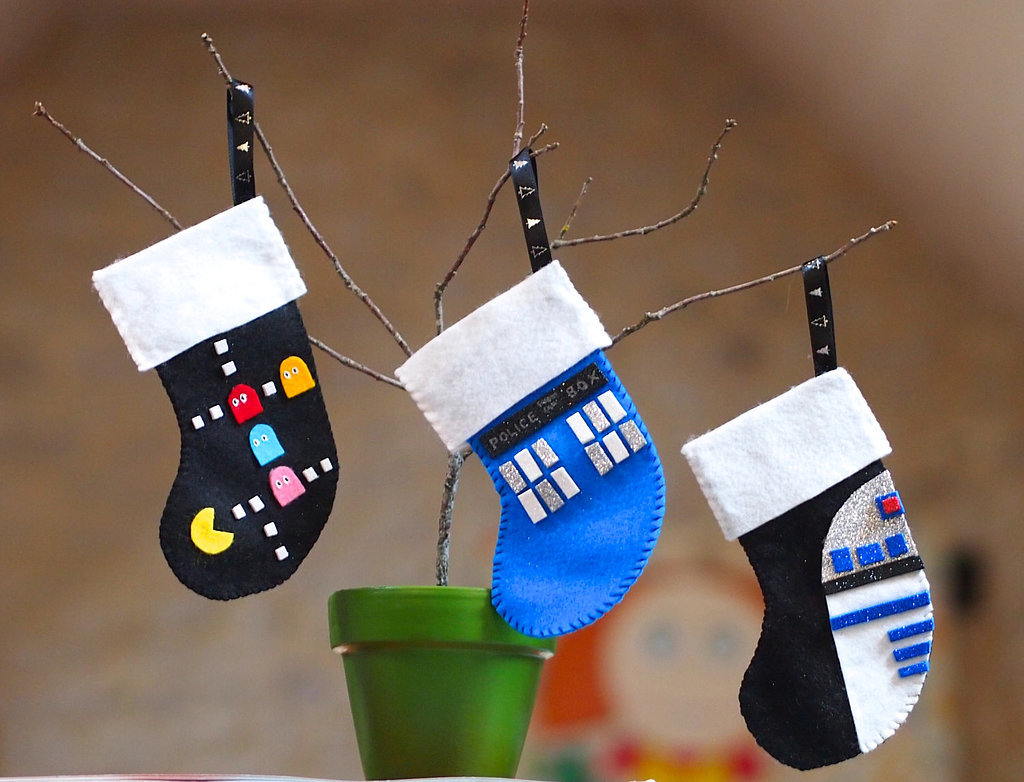 So, have fun with it, no matter what holiday you're into. Be yourself, and you'll be happy. I hope everyone has a great holiday season this year! If you have any sweet decorations you'd like to share, either email me at tara@mygeekobsession.com or comment below! I'd love for you to share your stuff with us! You can also tweet @myssiing or find us on Facebook! Merry Geeky Christmas and Happy Holidays!